Ubtan Recipes for Brides
Bridal Ubtan Recipes
Here are two great ubtan recipes for the bride, one is for the body and one is for the face. When massaged into the bride's skin on a regular basis (daily would be the best, or if not, whenever possible) the skin gets to be more glowing and lovely over time.
It is recommend to do the body massage in the morning just before the bathe and the facial massage is recommended to be done in the night before bed.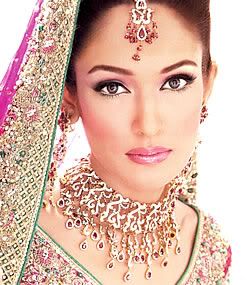 BRIDAL FULL BODY GENERAL BEAUTY MASSAGE UBTAN RECIPE
Ingredients
4 Tbsp. Chickpea Flour
2 Tbsp. Almond Oil
1 Tsp. Turmeric
1 Tsp. Fenugreek Powder
1 Tsp. Wheat Germ Oil
1/4 Tsp. Rose Oil
Method
Mix all ingredients. It is recommended to do the ubtan body scrub every day for 40 days. Use the ubtan scrub to massage the entire body. After the massage take a warm shower to remove. Make a fresh batch each morning.
BRIDAL FACIAL MASSAGE UBTAN RECIPE
Ingredients
1 Tbsp. Almond Paste
1 Tbsp. Cashew Paste
1-1/2 tsp. Pistachio Paste
1 Tbsp. Malai (skim off boiled milk)
1 Tbsp. Wheat Germ Oil
1 Tbsp. Rose Water
1/4 cup Red Lentil paste
Chickpea flour (to thicken)
Method
Grind the nuts in a blender on high until pulverized, then add remaining ingredients. Use as a facial massage. Let dry then wash it off. Pat face dry with a clean towel.
For more information on ubtan, please
click here
.

We recommend you visit Bridal Skin Care
for Bridal Skin Care Tips and Ideas
so that you look your fabulous self on your wedding day!

Labels: Bridal Ubtan Recipe
Featured Offer from Nina at India Wedding Designs:
Sign-Up For 21 Wedding Tips
Includes the following Topics!

Something Every Bride-to-Be Needs to Know
How To Survive (and Enjoy) Your Wedding Day
The Real Secret to Choosing Colors for Your Wedding Dress
Adapt the Latest Bridal Dress Fashions To Your Figure Type
Bridal Hairstyle Looks That Would Suit You Best
How to Avoid Bridal Make-up Disasters
The Wedding Make-Up Tip for Indians that is Almost Too Easy
For Radiant Skin, These Facial Methods Work Like Crazy
The Biggest Mistake Brides Make (and How to Avoid It)
The Best Way I Know to Get a Honeymoon Trip, Even When Your Budget Doesn't Allow It.