Pakistani Bridal Wear | Modern Stylish Bridal Lehnga
For today's blog article, the focus is on stylish and modern ivory and white Pakistani bridal sarees and lehngas that we have come across recently. These are really beautiful Pakistani Bridal wear indeed. Also, featured is an inspiration board of white and ivory colored accents that can be incorporated into your wedding to create a beautiful white or ivory themed wedding.
Hope you are amply inspired by our ivory and white finds today!
The Pakistani bridal wear designs featured in today's blog article is by Pakistani fashion designer Hina Arif.
Ms. Hina Arif introduced herself formally to the fashion world with opening of her boutique of High Fashion Pakistani Dresses ten years ago to customize with the taste of every woman.

Hina has launched her new collection of formal wear comprising sarees, lehangas and suits in her characteristic Pakistani style. Her emphasis is on the right combination of resplendent colors, floral embroidery and stunning styles. In her new ensemble, she has used a wide variety of fabrics, including silks, nets, cotton, tissues, organza, georgette and chiffon.

Her collection and other designs from magazines are available exclusively on internet.
Stylish and Modern Ivory and White Pakistani Bridal Wear
White and Gold Pakistani Wedding Bridal Wear Sharara


White and Dusky Gold Pakistani Bridal Wear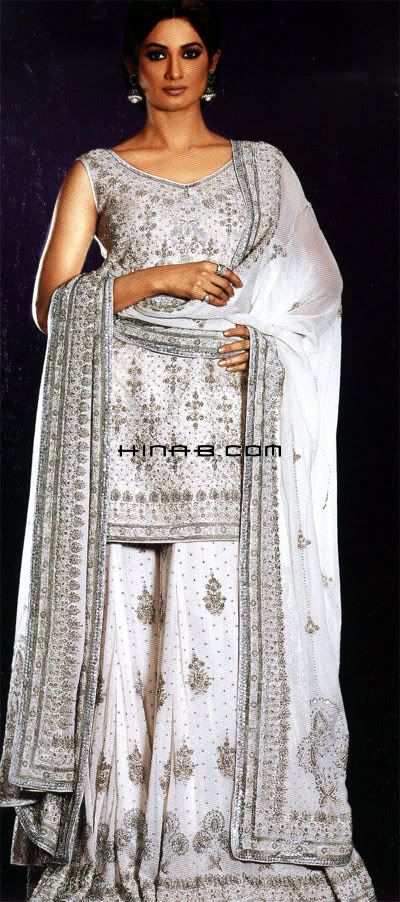 White and Silver Pakistani Bridal Wear


Stunning White and Black Wedding Cake
Inspired by Matching Wedding Dress


Wedding Inspiration Board - Ivory and White Wedding Themes


We recommend you visit Bridal Skin Care
for Bridal Skin Care Tips and Ideas
so that you look your fabulous self on your wedding day!

Labels: Bridal Lehnga, Pakistani Bridal Wear 2009, Wedding Sharara
Featured Offer from Nina at India Wedding Designs:
Sign-Up For 21 Wedding Tips
Includes the following Topics!

Something Every Bride-to-Be Needs to Know
How To Survive (and Enjoy) Your Wedding Day
The Real Secret to Choosing Colors for Your Wedding Dress
Adapt the Latest Bridal Dress Fashions To Your Figure Type
Bridal Hairstyle Looks That Would Suit You Best
How to Avoid Bridal Make-up Disasters
The Wedding Make-Up Tip for Indians that is Almost Too Easy
For Radiant Skin, These Facial Methods Work Like Crazy
The Biggest Mistake Brides Make (and How to Avoid It)
The Best Way I Know to Get a Honeymoon Trip, Even When Your Budget Doesn't Allow It.