Pakistani Wedding Outfits | Red Hot Bridal Wear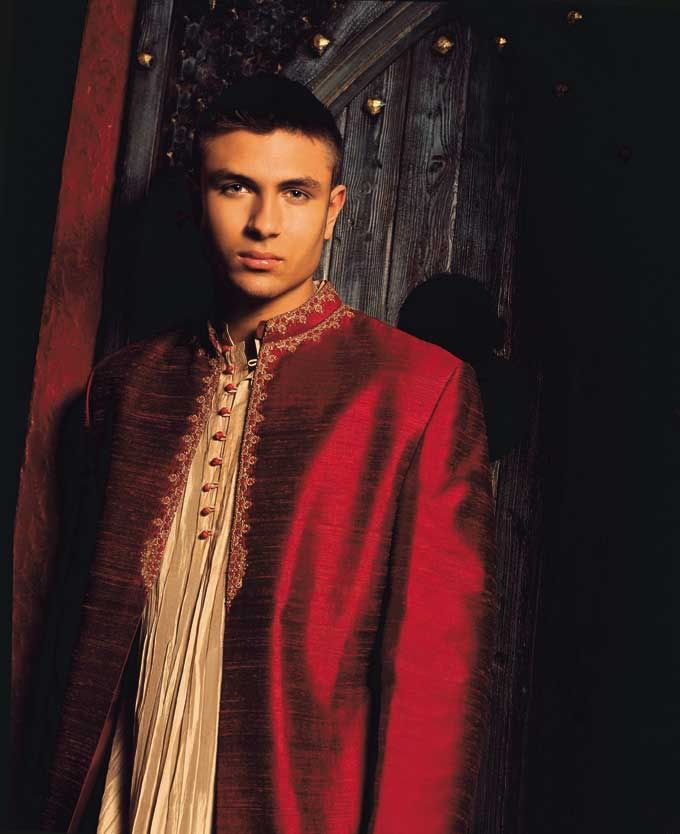 Red Hot Pakistani Bridal Wedding Wear
There is no one type of outfit that a Pakistani bride and groom wears to their wedding. The options for a Pakistani bride as to the choice of her wedding outfit can be plenty. She can choose to wear a wedding outfit such as the
Sharara, Gharara, Lehenga Choli, Mermaid Cut lehenga, Churidar and Pyjama with Angrakha, Salwar kameez, Pakistani salwar suits or the saree.
The choices for the Pakistani groom are, by contrast, smaller. The wedding outfit of choice for most Pakistani grooms is the Sherwani.
The Pakistani brides accessorizes her wedding outfit with beautiful jewelry.
Please read on for more information on picking Pakistani wedding outfits and complementary bridal jewelry.
We also feature Pakistani Bridal clothes
Wedding Clothes and Jewelry in Pakistan
By Hayi Mansoor
Wedding is a memorable traditional event in every one's life. The dress and jewelry play the major role as the bride and the groom want to look elegant. Wedding dress and jewelry is very important in Pakistan also. Pakistani bride selects a perfect wedding dress to look attractive. She will remember this for the rest of her life.
There are plenty of types of wedding dress like Sharara, gharara, lehenga choli, mermaid cut lehenga, churidar and pyjama with angrakha, salwar kameez, Pakistani salwar suits and saree to select for the wedding in Pakistan. They are also available to suit everyone's financial position. Bridegroom's dresses in Pakistan are designed in such a way that they cater for both tradition and style. The dress can be white, black or any other color. However, black is liked superior by most of the grooms. These dresses are designed and cut by specialist designers.
Bride and the groom's garments are decorated with embroidery work using threads, beads, discs, silver and gold threads. Sherwani is a long coat, which fits close to the body is worn by the groom over his normal dress. Sherwani is fitted with number of buttons to fasten in the front. Sherwani is also embroidered such that it gives a pleasing look. Peshawri and Baloochi are two types of Sherwani decorated with embroidery. In addition, some of the grooms wear turban. Turban is always in the traditional red color. Sandals are the footwear preferred for the wedding.
Brides invariably prefer traditional lehenga choli rather than sari and choli. Wedding sarees in Pakistan are made with plenty of gold or silver thread designs. This increases the weight of the saree. Pakistani brides are more comfortable with the light weight lehenga choli. Lehenga choli is nothing but a long skirt and blouse. Choli is embroidered along the neck line, hem, side hem and chest. Lehenga is embroidered heavily to give a beautiful and elegant look. Some of the brides prefer to wear churidar. In any case, the bride in Pakistan should wear veil known as duppatta. Duppatta is a long piece of cloth beautified with embroidery work. Duppatta is hung on the shoulder and it is also used to cover their face.
Jewelry of wedding in Pakistan is unique in nature. According to the status of the family the jewels are selected. Jewels are very important in a wedding in Pakistan. Along with sophisticated jewels to wear on the neck, hands they also wear nath and tikka. Nath is a nose ring and tikka is pendant like ornament hanging on the forehead to beautify the bride. Importance is given to match the jewelry and the wedding dress. In modern days wedding in Pakistan, necklace, bracelets, earrings and rings are designed to the current fashion.
In resent times, designers of wedding clothes and jewelry in Pakistan, design that highlights the pleasing wedding look of bride and groom. Designers get these designs from film stars' costumes. Thus by mixing tradition with modern designs, dress and jewelry of wedding in Pakistan march on.
For further Reading, Please visit Asian Women Magazine
Article Source: http://EzineArticles.com/?expert=Hayi_Mansoor
Hayi Mansoor - EzineArticles Expert Author
The Pakistani bridal wear designs featured in today's blog article is by Pakistani fashion designer Hina Arif.
Ms. Hina Arif introduced herself formally to the fashion world with opening of her boutique of High Fashion Pakistani Dresses ten years ago to customize with the taste of every woman.

Hina has launched her new collection of formal wear comprising sarees, lehangas and suits in her characteristic Pakistani style. Her emphasis is on the right combination of resplendent colors, floral embroidery and stunning styles. In her new ensemble, she has used a wide variety of fabrics, including silks, nets, cotton, tissues, organza, georgette and chiffon.

Her collection and other designs from magazines are available exclusively on internet.
Red Hot Pakistani Wedding Dress Ideas and Inspirations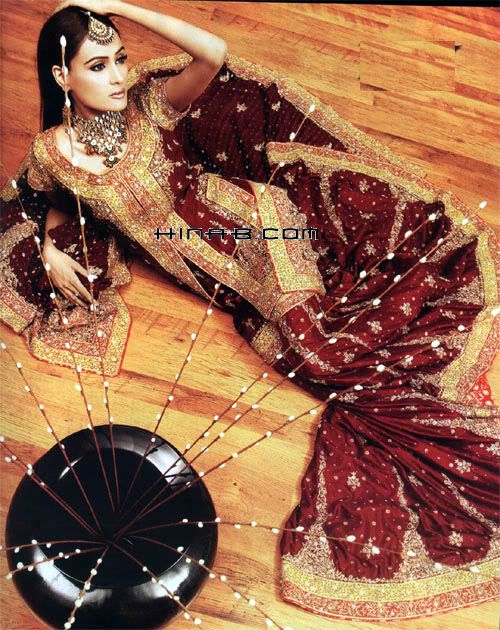 Red and Gold Pakistani Wedding Sharara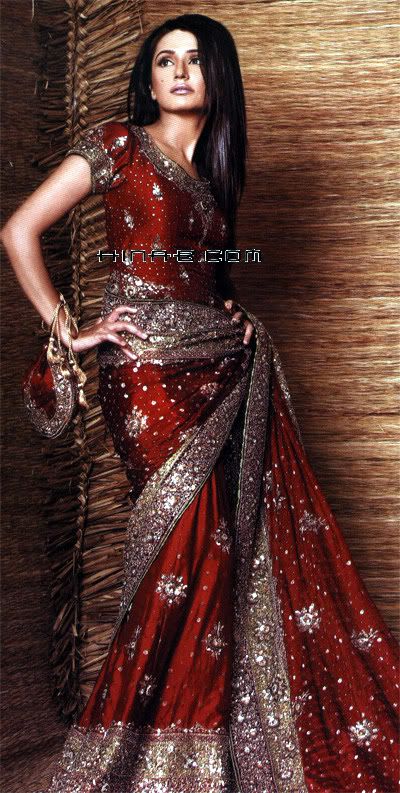 Red and Silver Pakistani Wedding Saree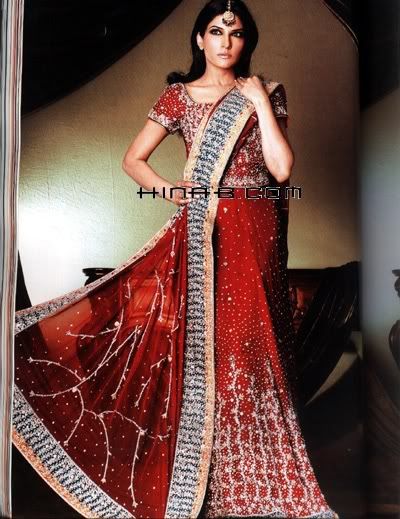 Red Pakistani Bridal Saree

We recommend you visit Bridal Skin Care
for Bridal Skin Care Tips and Ideas
so that you look your fabulous self on your wedding day!

Labels: Bridal Lehnga, Pakistani Bridal Wear 2009, Wedding Sharara
Featured Offer from Nina at India Wedding Designs:
Sign-Up For 21 Wedding Tips
Includes the following Topics!

Something Every Bride-to-Be Needs to Know
How To Survive (and Enjoy) Your Wedding Day
The Real Secret to Choosing Colors for Your Wedding Dress
Adapt the Latest Bridal Dress Fashions To Your Figure Type
Bridal Hairstyle Looks That Would Suit You Best
How to Avoid Bridal Make-up Disasters
The Wedding Make-Up Tip for Indians that is Almost Too Easy
For Radiant Skin, These Facial Methods Work Like Crazy
The Biggest Mistake Brides Make (and How to Avoid It)
The Best Way I Know to Get a Honeymoon Trip, Even When Your Budget Doesn't Allow It.