Bridal Wear | Hot Silver Pakistani Outfits
Today, we feature some hot silver Pakistani bridal outfits. Silver is not a color that is often picked by brides for their wedding outfits. But the silver color for wedding outfits (platinum in couture bridal wear language) is getting some attention by designer.
A lot of Western brides are favoring platinum bridal dress over the traditional white bridal dress. Check out this site to view some designer Western styled wedding dresses in platinum color.
Similarly, we wanted to feature some Pakistani designs for bridal wear in silver (platinum) color. It was not that easy finding silver bridal outfits. Colors that are more common are usually red, pink, green or blue.
So if you are planning your Pakistani wedding soon, why not search for a silver (platinum) wedding dress. Here are some ideas for you to get inspired!
Hot Silver Pakistani Bridal Outfits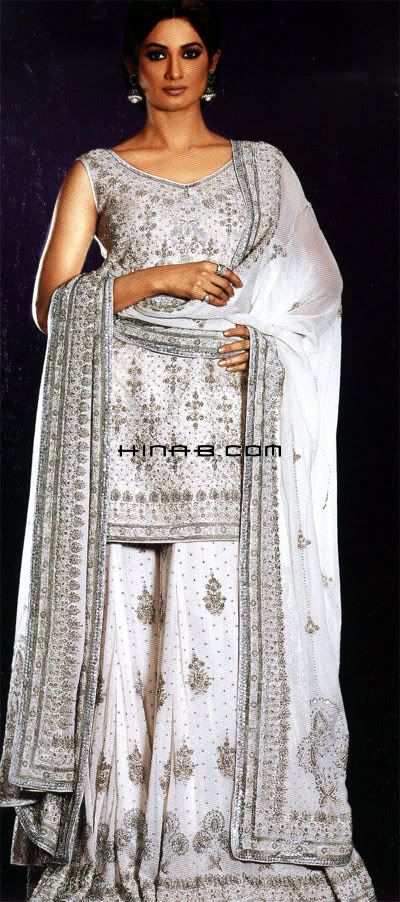 Silver Pakistani Bridal Outfit


Design By Hina




Silver Pakistani Bridal Outfit


Elegant Pakistani Bridal Outfit in Silver


Silver Modern Pakistani Bridal Gown


Design by Bargello




Modern Styled Pakistani Bridal Dress
with Silver Laposa Lace


Dusky Silver Pakistani Bridal Outfit


Platinum Pakistani Bridal Gown
Modern Fishtail Cut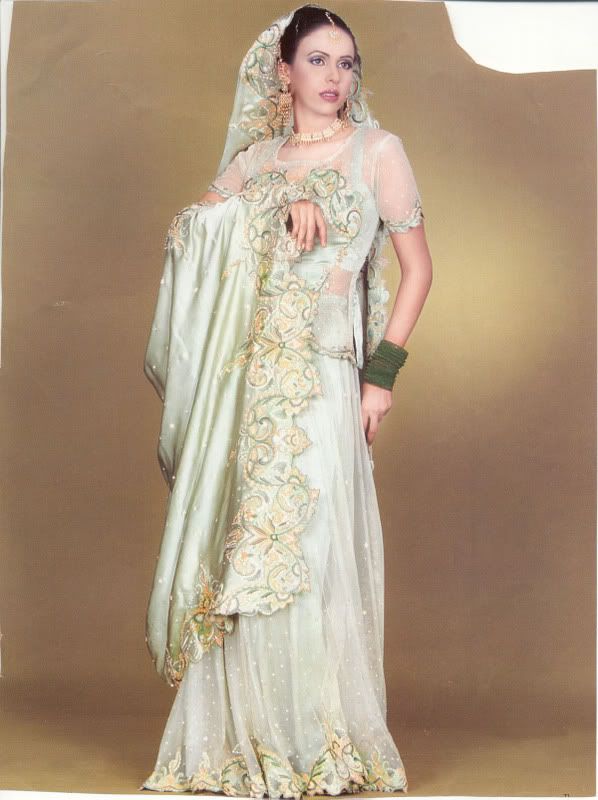 Greenish Silver Traditional Pakistani Bridal Sharara

We recommend you visit Bridal Skin Care
for Bridal Skin Care Tips and Ideas
so that you look your fabulous self on your wedding day!

Labels: Pakistani Bridal Wear 2009
Featured Offer from Nina at India Wedding Designs:
Sign-Up For 21 Wedding Tips
Includes the following Topics!

Something Every Bride-to-Be Needs to Know
How To Survive (and Enjoy) Your Wedding Day
The Real Secret to Choosing Colors for Your Wedding Dress
Adapt the Latest Bridal Dress Fashions To Your Figure Type
Bridal Hairstyle Looks That Would Suit You Best
How to Avoid Bridal Make-up Disasters
The Wedding Make-Up Tip for Indians that is Almost Too Easy
For Radiant Skin, These Facial Methods Work Like Crazy
The Biggest Mistake Brides Make (and How to Avoid It)
The Best Way I Know to Get a Honeymoon Trip, Even When Your Budget Doesn't Allow It.